How to create a PDF/X1-a PDF from InDesign
adobe
advice
artwork guide
design
design for print
guide
indesign
pdf
Resources
graphic design
resource
Read the article below or enter your email to download the printable PDF version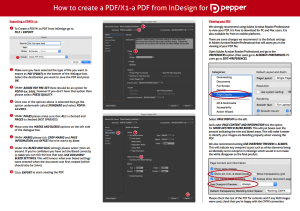 Exporting a PDF/X-1a
1. To Create a PDF/X-1a PDF from InDesign go to FILE > EXPORT
2. Make sure you have selected the type of file you want to export as PDF (PRINT) at the bottom of the dialogue box. Select the destination you want to save the PDF and press OK.

3. Under ADOBE PDF PRE-SET there should be an option for PDF/X-1a: 2001, however if you don't have that option then please select PRESS QUALITY.
4. Once one of the options above is selected then go the option underneath called STANDARD and select PDF/X- 1a:2003.
5. Under PAGES please make sure that ALL is checked and PAGES is checked (NOT SPREADS)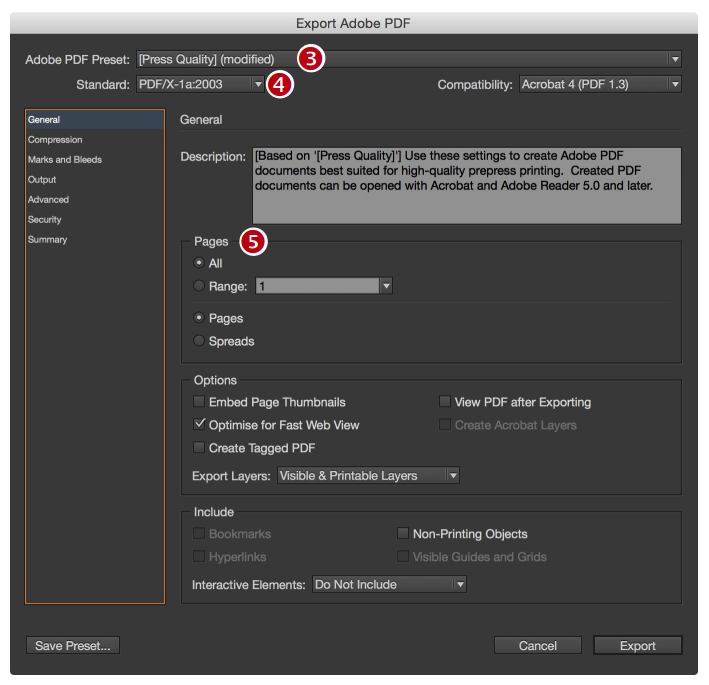 6. Move onto the MARKS AND BLEEDS options on the left side of the dialogue box.
7. Under MARKS please tick CROP MARKS and PAGE INFORMATION and OFFSET the trim marks by 3mm
8. Under the BLEED AND SLUG settings please select 3mm all around. If you're confident you have set the Bleed correctly to 3mm you can tick the box that says USE DOCUMENT BLEED SETTINGS. This will honour what ever bleed settings were entered when the document was first created (which should also be 3mm).
9. Click EXPORT to start creating the PDF.

Viewing your PDF
We strongly recommend using Adobe Acrobat Reader/Professional to view your PDF. It is Free to download for PC and Mac users. It is also available for free on mobile platforms.
There are some changes we recommend to the default settings in Adobe Acrobat Reader/Professional that will assist you in the viewing of your PDF file.
Open Adobe Acrobat Reader/Professional and go to the PREFERENCES option. (Mac users go to ACROBAT>PREFERENCES. PC users go to EDIT>PREFERENCES.

Select PAGE DISPLAY on the left (above) and under PAGE CONTENT AND INFORMATION (below) tick the option for SHOW ART,TRIM & BLEED BOXES. This will put boxes over the artwork indicating the trim and bleed areas. This will make it easier to identify your images are bleeding properly when viewing the PDF.
We also recommend setting USE OVERPRINT PREVIEW to ALWAYS. This will indicate any overprint issues such as white elements being accidentally set to overprint in InDesign which would in turn make the white disappear on the final product.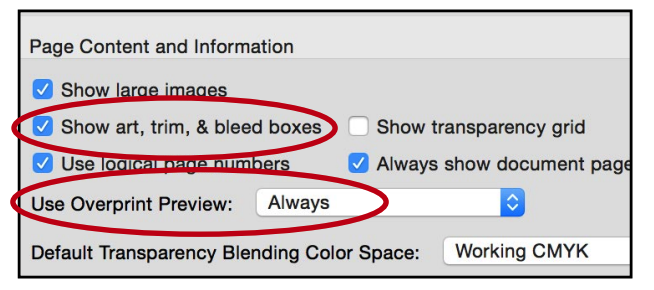 Please check the rest of the PDF for contents and if any RGB images were used, check that you're happy with the CMYK conversion.