Pepper's data processing services ensure that your data is managed correctly, helping you to get the most out of your marketing budget. We can create prospect pools for you, as well analyse, cleanse and profile your data to help you make sense of it and use it more effectively. Within our data bureau, a range of data processing services make all this possible, integrating with all the direct mail marketing services we provide. By combining leading data processing services with direct mail management, personalised campaigns and polythene enclosing, Pepper will work with you to create professional, successful campaigns.
Did you know that £95 million is wasted every year mailing people who have moved house? Or that £18 million is wasted each year sending mailshots to deceased individuals? Our data bureau helps you to avoid these and other expensive mistakes with a number of data management procedures, including:
MPS cleaning/Postcode Address File (PAF)
Goneaways
Mortality
Mailsorting to highsort and lowsort (CBC/OCR)
Admail, business and publishing
Deduping to any required level
Case conversions
Building of salutations
Assigning of URNs
Alongside these services, Pepper uses remote data capture (RDC) facilities to track your campaign through every stage of the production process, keeping your job on schedule and on budget.
For more information on the importance of data quality in marketing campaigns, download and read our Guide to Data Quality and Matching Whitepaper.
Tracking
Sophisticated remote-data-capture (RDC) facilities enable us to track a job right through every stage of the production process, keeping your job on schedule. Check out our handy infographic to see why maintaining your data is so important.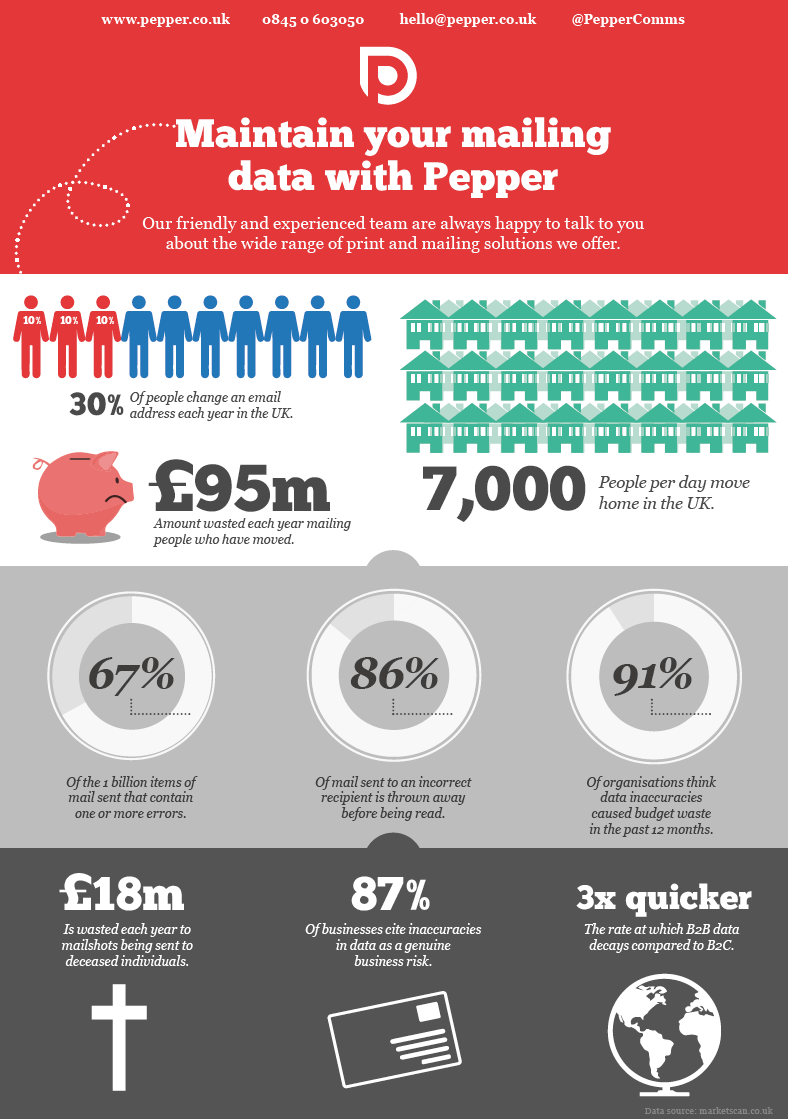 Our experienced team of dedicated Account Managers will give you great advice about tailored print solutions and one-off print and direct mail pieces

contact us

today to find out how we can help your business.