An introduction to the 3 types of mail.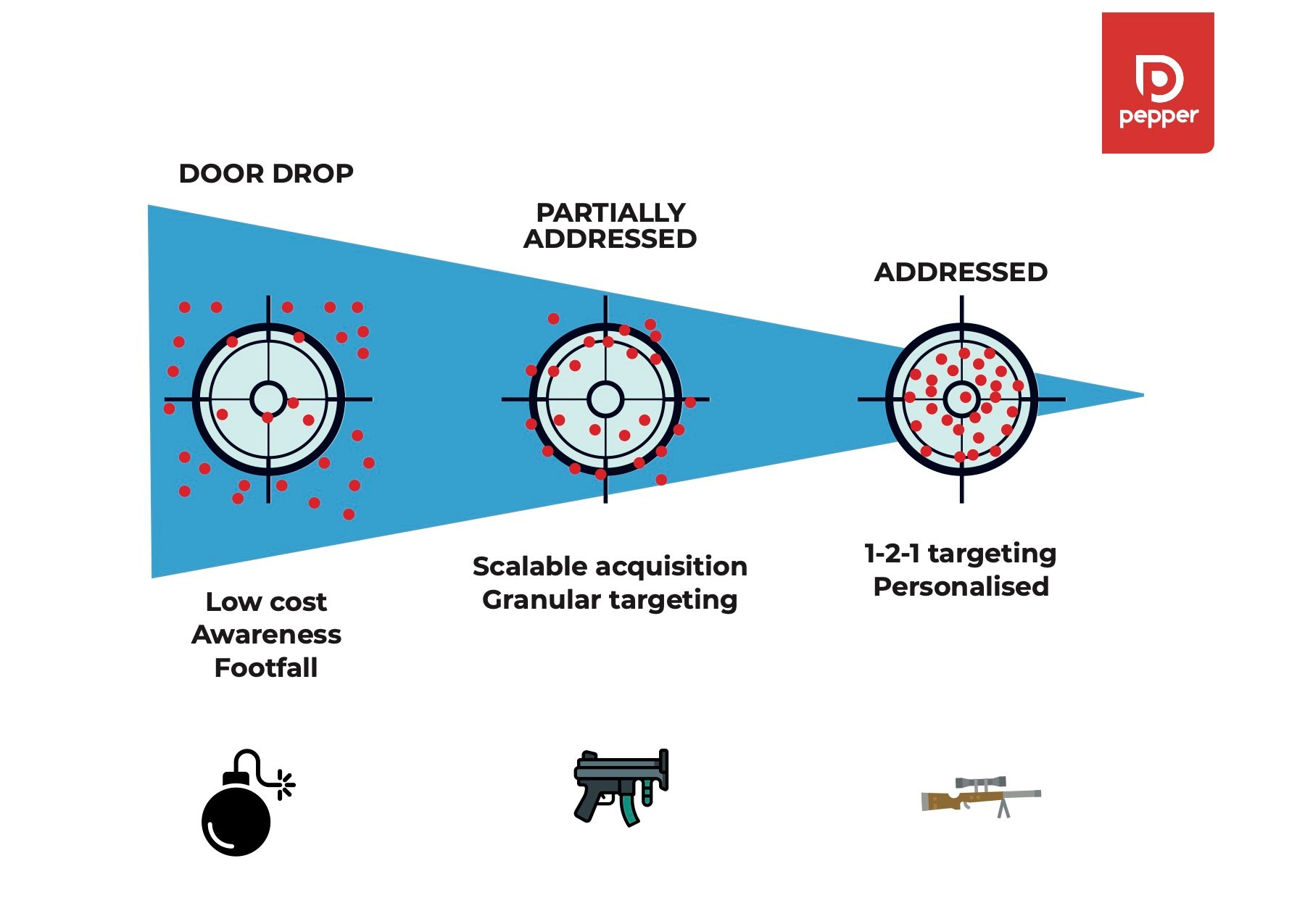 There are 3 methods of direct mail distribution that sit on a sliding scale from less targeted, cost effective mass marketing at the unaddressed end of the spectrum to highly targeted 1-2-1 communication at the addressed end with partially addressed sitting in between.
Fully Addressed Mail
Targeting customers at an individual level, addressed mail can be fundamental in establishing long-term customer relationships, generating excellent responses and brand engagement. Addressed mail also instils more trust, a key element in certain sectors such as financial services. Although more expensive to send and to acquire data, engagement rates are higher.
Targeting is on an individual level and is typically done based on a profile created from analysing your existing customer base. If we're unable to create a profile from existing data we can create one based on hundreds of attributes available to us to create an exact customer profile.
Partially addressed mail (PAM)
New customers by targeting household at the whole postcode level. An average of 15 households are in a given postcode area so is far more targeted than unaddressed postcode sector, which has on average 15 households.
Partially addressed utilises the full address but without any personally identifiable data so is not targeted at a named individual. A generic salutation is applied, in keeping with your offering such as To the Man of the House.
Cost-effective acquisition of new customers
A rich array of selection criteria combinations
Reduction of waste to lower indexing households
You can also top up postcodes in areas where you already have existing customers.
Unaddressed Mail
A flexible and cost-effective way to get leaflets, flyers and brochures into customers' hands, either locally or nationally. Their versatility is what makes them so appealing. Whether you want to achieve a broad reach across a specific area, or nationally across multiple areas, door drops are a targeted way to find the right people at scale. They're perfect for things like new store openings, events, or promoting services in your local area. This is a great cost effective method to create brand awareness and has lower engagement rates but is unrivalled in terms of reach. Targeting at the household level with a typical postcode area averaging 1500 households. Targeting can be done via geography predominately and there are additional socio, economic and demographics that be can overlayed to highlight the higher density sectors of a target audience.
Conclusion
Whatever your communication challenge maybe there is a mailing option that will reach nearly 100% of any given audience, even those that aren't online. That is why time and again important messages, such as those from government or the NHS chose the medium.
If you would like to know more about which channel might be right for you then get in touch with one of the team, we'd be happy to help.