Door to Door Incentive - Buy one get one half price!
Direct mail marketing
Incentives
Door to Door
D2D
Door drop marketing is a powerful, tactile and cost-effective way to reach new customers, with 73% of door drop messages being read, displayed or kept*. It's customer engagement like this that can really help to boost your business.

Get in touch to book in.

With our special offer, you can book a door drop campaign now using formats such as leaflets or flyers and get a second mailing HALF PRICE** within three months. Use your 50% discount to follow up with existing customers, or grow your business in a new area.


Choose to send to a local postcode area or anything up to 30 million homes across the UK. And with our clever free targeting and customer profiling service, you'll be talking to just the right kind of people for your business.

Don't miss out. Call our Royal Mail Door to Door experts today to find out how our offer can help bring in customers. Or leave your details and we'll call you back.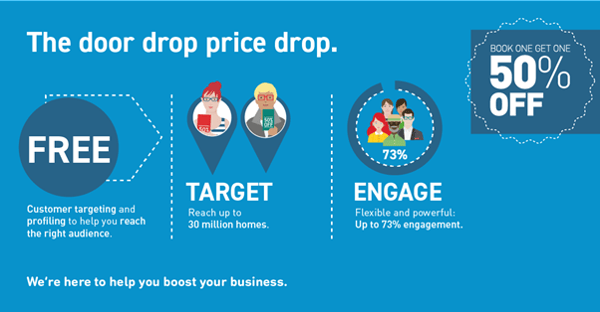 *JICMAIL Q2 2017 – Q1 2019
**Qualify for the Multi-Mail Incentive by posting 25,000 or more Eligible Items at standard rate (rate card (pdf, 328.45 KB)) (Booking 1), then a second posting of 25,000 or more Eligible items within 3 months of Booking 1 (Booking 2). Offer: 50% discount off Booking 2. Available 01.06.20 - 28.03.21 inclusive.
Max. 100,000 Eligible Items each booking. Booking 2 must not exceed Booking 1 volume. Cannot be used in conjunction with any other offer or discount. Full terms and conditions (pdf, 105.48 KB)