4 local marketing ideas to help your business get noticed
Small businesses are the lifeblood of the UK economy, with 60% of workers in the UK employed by a SME (small to medium sized enterprise). Many of these businesses exist to serve a particular area in the UK. They could be anything from an independent cafe in a town centre to a law firm that works with clients in the same city.
Local businesses don't need a marketing strategy that gets them exposure on a national scale. Instead, they need to be seen by the people in their area. Local marketing is an art form in itself, requiring attention to detail in areas that would be ignored by big corporations. In this article, we've put together four ideas to help you get a successful local marketing campaign up and running.
1. Get online with a Google My Business profile
Google My Business is the search giant's business information platform. Every business should have an account, but the benefits are even more pronounced if you're trying to reach a local audience.
When your profile is complete, it will allow Google to pull accurate information about your business into their Knowledge Graph, which is displayed whenever someone searches for your business. Take a look at part of Pepper's here: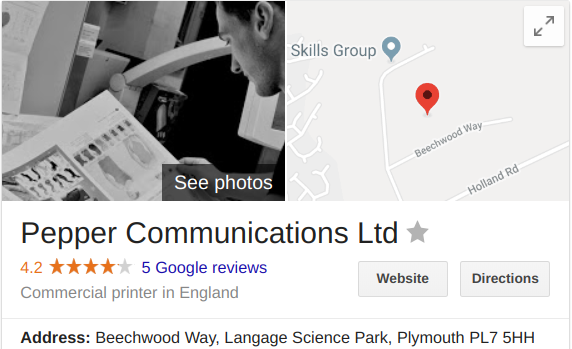 As you can see, the Knowledge Graph shows photos, your business's location on a map, a text address, opening hours, contact details and more. This is all the information that a potential customer might need if they're trying to find your business or get in touch.
Without a Google My Business listing Google will still source a lot of information on its own, but it won't necessarily be up to date or accurate. Having a listing means that you have much more control over what Google can display and allows you to update your details as needed.
In addition, a full profile is a contributing factor to your company's ability to appear in Google search results when a local person searches for something related to your business. It gives your business the ability to appear in the 'map pack,' a subsection of the search results that shows the details of a handful of businesses (as you can see below for the query 'italian restaurant plymouth').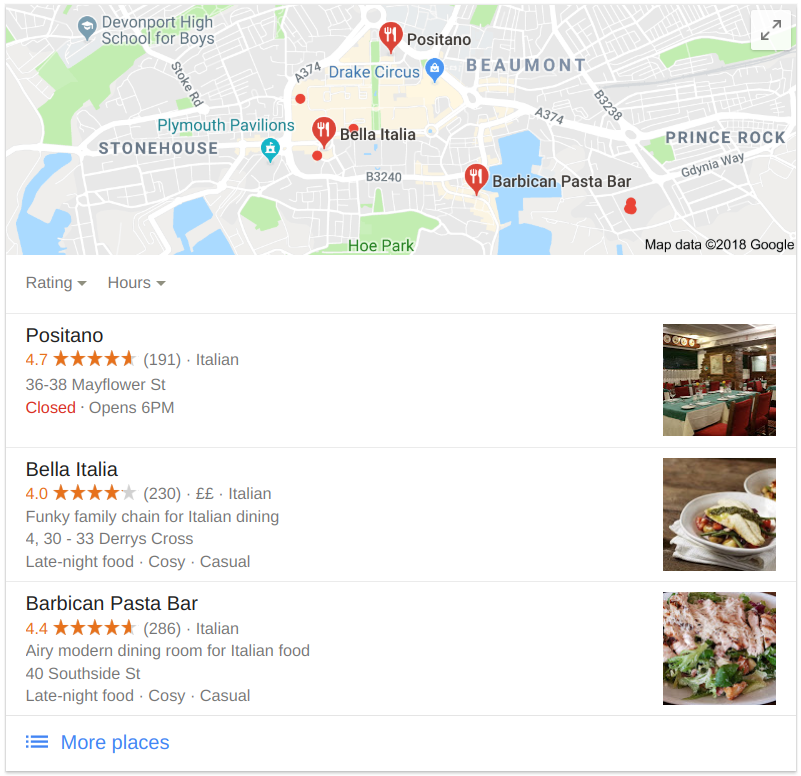 You can also improve visibility in local search results by obtaining 'citations' - these are basically listings on websites that contain your business's name, address and phone number. If you can get citations from local online directories, many of which don't even charge, you could find your visibility in the map pack and regular results improving.
2. Give your audience a way to find out more online
A Google My Business listing is the bare minimum you need to be visible online. But, given how internet browsing has taken over our lives, you should be aiming higher than the minimum. It's also a very good idea to invest in a website and/or a Facebook page.
If you're a business that's trying to attract enquiries, a website is a must. If you're running a local shop or restaurant, you can probably get away with just a Facebook page if you don't have the resources to create a website.
No matter the platform you choose, you should include 3 key elements:
Contact details, including an address if you want people to find your physical location.
Product/service information
High-quality branding - if you have a physical location, this should include excellent photography. Your business's identity should be consistently and clearly represented.
Very few businesses can get away without some kind of online presence. Even creating a brand new website doesn't have to be too daunting, with platforms like Wordpress making it easy to create professional-looking sites for very little money.
With a Facebook page or website created, you have a resource that people can go to to find out more. You can reference this resource in your Google My Business listing and in other marketing channels.
3. Run a direct mail marketing campaign to reach the people in your area with your message
Direct mail marketing is one of the most effective ways to reach a local audience. It involves sending flyers or brochures to a list of addresses. There's no other way to be completely certain that everyone in a particular area has seen your marketing materials.
Printed materials also give you a lot of control over how your brand and message is presented. You don't have to conform to the character limits and image restrictions of online ads, nor do you need to make your ad an exact shape to fit the space in a newspaper or magazine. Instead, you have the freedom to create the materials that you think will be most effective in attracting the attention of your target market.
If you decide to run a direct mail marketing campaign, you should make sure that you have a specific goal in mind. You won't be successful if you just send round a generic information leaflet. Instead, you need to give your audience something to latch on to, whether it's a voucher, a limited time discount or something else that prompts them to act. The only exception to this rule is if you want to use the campaign to promote the opening of your new business or location. In this scenario your goal should be to provide your audience with enough information to persuade them to use your services.
If they're run the right way, direct mail marketing campaigns can also be kind to the environment. Pepper has the capacity to use paper and ink from sustainable, environmentally friendly sources and our data bureau can help trim your recipient list to cut down on waste and improve your return on investment. If this is something that's important to you, it's helpful to know that your marketing efforts don't have to be harmful.
4. Talk to other local businesses to see what works for them
Our final idea is more a springboard to other ideas than a tip in itself. Every local area is different, which means that what works in one town might not work at all in the next. As such, it's important to get a feel for the marketing opportunities that are worth pursuing in your area.
Local newspapers and publications will nearly always sell ad space that you could buy to showcase your business. However, these ads won't always be good value for money. If your local paper is well-read and seen by readers that you would consider to be potential customers then buying an ad is likely to be a good strategy. However, if these publications are struggling for distribution or you know you're targeting a different audience, there's little point in spending the money.
Speaking to other local businesses may also clue you in to events run in the local area that could allow you to meet potential customers, network and grow awareness for the business yourself. Anything from a local directors' event to a country fair could be helpful if you're likely to meet people who could become customers or support you in another way.
Every area will have a completely different timetable of events so there's no substitute for talking to people and doing your research. Use your common sense and your knowledge of both your business's goals and target market to choose the marketing channels that seem beneficial and don't feel bad about steering clear of those that don't.
Whatever strategies you choose to pursue, remember that the goal is to get your business seen by the right people. You should be as visible as possible - online, on social media, in your local area and even in the homes of your target market.
If you want help with your local business marketing, get in touch with Pepper. Our expert marketing consultants can help you put together the perfect strategy to reach your target market.